The Monarchy Gala Helped Fund Our Tutoring Program
Change Is Really Happening!
I would sincerely like to thank you for your participation in the Monarchy Gala last April 29, 2016 and for your support of the AUMAZO, INC. Program. You jump-started us on our goal to raising the funds needed to provide girls in Bankondji with the essential ingredient for their academic success: the Tutoring Program. During the gala, we raised $5,000, enabling us to start this necessary prerequisite program.
Why a Tutoring Program?
Many 7th and 8th grade girls in rural communities in Cameroon cannot understand grade-level texts in reading comprehension, math and other subjects. Therefore, they cannot pass the complex high school entrance exam required to enroll in Cameroonian high schools.
The goal of the Tutoring Program that starts in August 2016, is to improve girls' academic performance and personal growth and help them pass the high school entrance exam that is required in Cameroon to enter 9th grade.
Peer-to-Peer Tutoring
Aumazo plans to tutor girls up to grade-level in their classroom setting by using the Peer-to-Peer Tutoring method. Local city dweller teachers trained by an expert educator from the US will travel to the Bankondji village to provide expertise, experience, encouragement and assist girls in problem-solving and help them improve their skills.
The Tutoring Program will give 80 girls a unique educational reinforcement opportunity. Girls, like Marie Justine who « wants to learn to boost her intelligence, » will participate in this program tailored to prepare them during the school year 2016-2017 to pass the high school entrance exam required in Cameroon to enter high schools.
Tutoring Program Goals
We are confident that by developing the ability to comprehend texts in reading comprehension, math and other subjects, positive changes will happen. The girls will stay engaged and achieve success rapidly. Hence, we could anticipate an at least 80% success rate in the high school entrance exam as opposed to the current 17%.
Aumazo cannot do this without your help. Your continued support is vital to the success of the program. To achieve the 80% success rate, the organization needs to raise an additional $35,000 to pay for the teachers' salaries, food and travel expenses and provide girls with books and school supplies. Please donate to our Gofundme Campaign.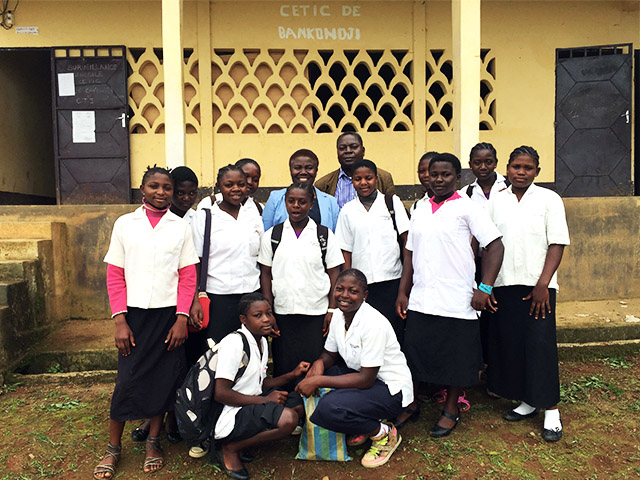 You Helped Make It Happen
We will begin the Tutoring Program in August 2016 because you already contributed $5,000 to the fundraising campaign. Together again, we will deliver the Tutoring Program.
We thank you for your partnership in making the difference in the lives of these girls who need our help.