Each Person Has a Story To Tell
"We can spot 'Jacqueline' everywhere around the village now." One mother said these words to me during my trip to Bankondji, Cameroon, last January 2017 and they are still ringing in my ears. At first when I heard them, I was taken aback and didn't know what to make of the compliment. Then I gathered my composure and asked her: "What do you mean?" She replied, "The girls in the Tutoring Program are smiling again and showing more interest in their studies since you brought and implemented the program. We know that their joy and hope derive from all that you are doing for them."
Although I know that we are doing a great job with the program, I was dumbfounded by her testimony. How should I not be? It is one of the best feedbacks I have ever gotten from these parents in the last 12 years. It is the culmination of several years of effort. It is a crowning achievement to the successful work we are doing.
I humbly accepted the compliment and dedicated this memorable moment to you. Together, we are inspiring and making a positive impact in the girls' lives, that of their families and their community with the tutoring program "Ça Fait Du Bien / It Makes Good." We are changing minds. We are bringing hope. We are making a difference while at the same time building a future and lives in Bankondji.
One Girl At A Time: Jiako
At this particular instance, my name was mentioned. It is just a representation of our accomplishment and a symbol of our success. This success has the face of 34 girls, among whom is a seventeen-year-old, Jiako. Although our ultimate goal at Aumazo is to bring meaningful changes in the lives of all the girls in rural Cameroon, we plan to do it one girl at a time.
Everyone has a story and that of Jiako is as compelling as that of every girl in the tutoring program. She lives in the village with her grandmother, two sisters and a brother. When I arrived in Bankondji on January 10th, 2017, she was confused and demoralized. She lost focus in class and was not participating fully in the tutoring program. Her classmates ridiculed and dismissed her.
It is the type of attitude we do not tolerate in our program and it was happening right in front of my eyes. I decided to dig deeper and get to the bottom of the issue. I first talked with Jiako who admitted that she is so overwhelmed with all that is happening in her life such as thefts, beatings and all the ridicule from her mates. She felt so defeated, lost and only needed an ear to listen to her story.
Thereafter, I met her and her grandmother to discuss and better understand her situation. According to her grandmother – who was relieved to see me – Jiako stole her brother's tuition money and eroded the trust that she had in her. This behavior forced her uncle to beat her and lacerate her skin with an electrical wire.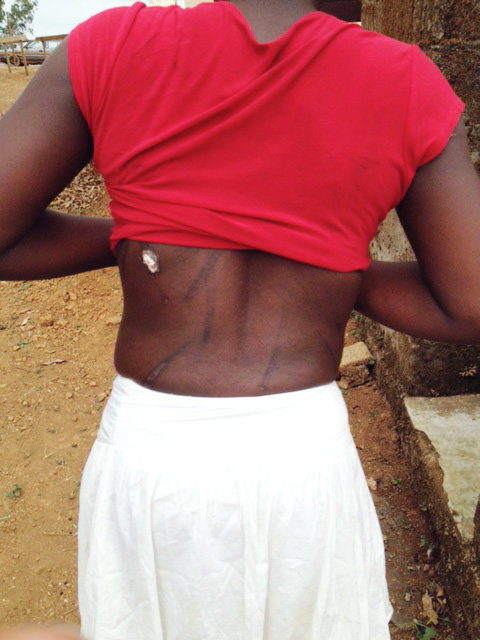 Jiako acknowledged the charges. She was forced to steal $10 to buy shoes and avoid being expelled from school. All she has is a pair of flip-flops which are forbidden in school. She stole to buy pads because her grandmother cannot afford any for her. She stole to submit her high school exam application on time because for the past two years her birth mother stopped providing support.
She also admitted that she didn't feel that it was theft because she made a deal with the school bursar office to repay the money. Her plan is to do some farming work during the winter break and use the pay to settle her debt. Her grandmother treats her like a thief and did not give Jiako a chance to explain herself.
Mediation and An Update on Jiako
The situation was heartbreaking to me but I had to bottle up my emotions and refrain from making any judgement. I was not trained as a counselor, nor did I study psychology or mediation. Nonetheless, I had to play these roles to restore trust to both Jiako and her grandmother and help build her confidence and regain her reputation among her peers. It is exactly what I did.
When I say that you play a major role in building the future of the girls in our program, I do not say it lightly. You did it for Jiako, her family and her classmates. Your generosity played a big role in this. We are in this together and our success will forever be yours.
I have to report to you that now Jiako is doing well and has rebuilt her relationship with her grandmother and gained the respect of her peers. She expressed her gratitude and thankfulness to you who support the tutoring program.
The GlobalGiving Girl Fund Campaign
We continue to count on your generous donations to stay afloat. Few minutes ago, GlobalGiving approved our project for the 2017 GlobalGiving Girl Fund Campaign. The fundraising starts March 1 at 12:00 am EST and closes on March 15th at 11:59 pm EST. Your participation would help AUMAZO, INC. qualify as one of the four nonprofits that will receive a share of the GlobalGiving Girl Fund.
Fund a Girl Today
Your Support Still Matters
We want you to know that your lasting advocacy and support are valuable to assist Aumazo in making meaningful connections and bringing many stories such as that of Jiako to you.
We thank you for all that you do to strengthen our cause.