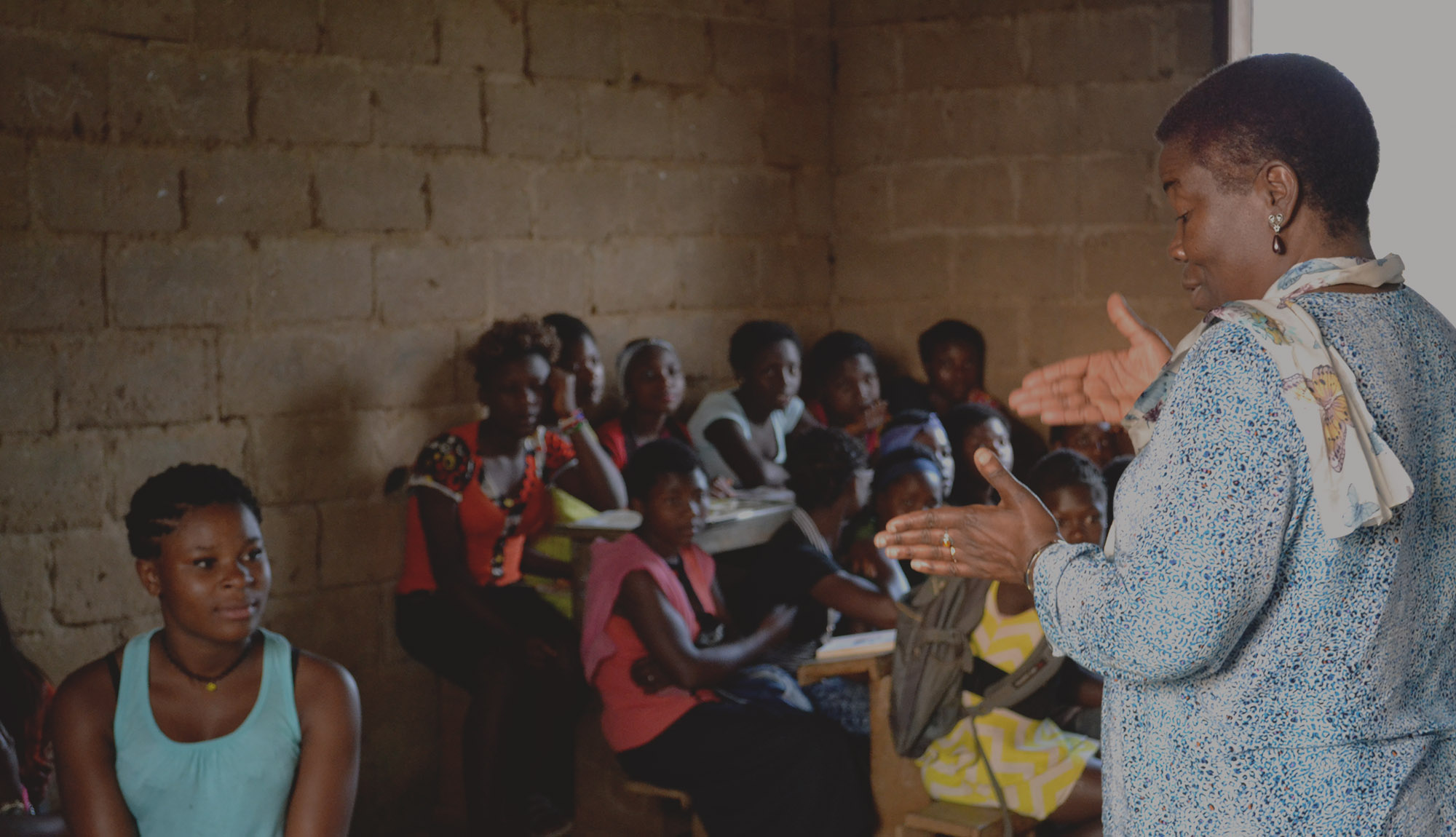 The Issues
The secondary education rate for girls in rural Cameroon is just 17 percent. A host of factors lead rural girls to leave school before entering or finishing high school.
Overcoming Daily Obstacles
Case Study
A Single Mother's Story
Two single mothers have participated in Aumazo's tutoring program, despite great challenges. Both of them had dropped out of middle school a few years earlier, but went back to school and participated in the tutoring program. One of the single mothers, Raissa, successfully passed the high school entrance exam last year, the other will take the exam in June 2020.
Audrey, a single mother of two, joined our tutoring program in September 2017. She had been inspired by Raissa's example to join the tutoring program with one goal in mind, "to turn my life around and secure a better life for my two children."
As she told Jacqueline Audigé in June 2018, she had been out of school for five years. She was scared and very apprehensive about participating in the program. Initially, when she returned to the village school in the village, she was placed in 8th grade. As the year progressed, the principal realized that she was struggling and couldn't keep up with her classmates. The struggle spilled over to the tutoring program and showed up in her frustration and aggressiveness toward other girls in the program. The final decision at her school was to demote her to 7th grade.
Audrey slowly made a great comeback as a result of the school placement and the help of our tutors. She build up her mental abilities and physical strength. She understood her role in the classroom and her contribution as of the the students in the tutoring program. She also took control of her life situation. Audrey stated, "I had been coming to school hungry and couldn't really concentrate in class. With the help of the tutors, I regained my physical strength and was able to do farming after school and grow some crops. I harvested them during the school year and provided food for myself and my children." By the end of the 2017/18 academic year she had made so much progress that her school principal said she was ready to take the high school entrance exam even if she was still in 7th grade, but Audrey felt she wasn't really ready yet, and went on to 8th grade.
Jacqueline Audigé was stunned when Audrey told her, "I am lucky to have Aumazo and all the people who support me. I am equally lucky to have my classmates in my life now. We have become friends and we have respect for each other." What a turn of events in less than a year!
Audrey is one of the two single mothers that we have welcomed into the program in the last three years. Their success would not have happened were it not for your generosity.
A number of factors threaten girls' continued education in Cameroon. Here are just a few.
Facilities
Schools often lack adequate – if any – sanitation facilities. For young women who have reached puberty, the lack of bathrooms is a significant obstacle, leading to high absentee rates, repeated grades, and dropouts. Girls who do make it to secondary school in Cameroon typically have much lower passing rates on exams than boys, due to regular gaps in attendance. Although this situation isn't exclusive to rural schools, it has a greater impact on the girls in these communities, especially when combined with other obstacles. Aumazo's focus is on providing solutions for rural communities, ultimately benefiting the overall society.
Aumazo understands that meeting girls' educational needs also means meeting their physical and emotional needs. Our boarding school will feature modern sanitation facilities, in addition to well-equipped classrooms, a gymnasium, a library/study, workshops, computer room and more. Access to quality infrastructure and quality education in an environment designed to meet their needs will help young women feel welcome and secure, thus reducing drop-out rates while improving self esteem.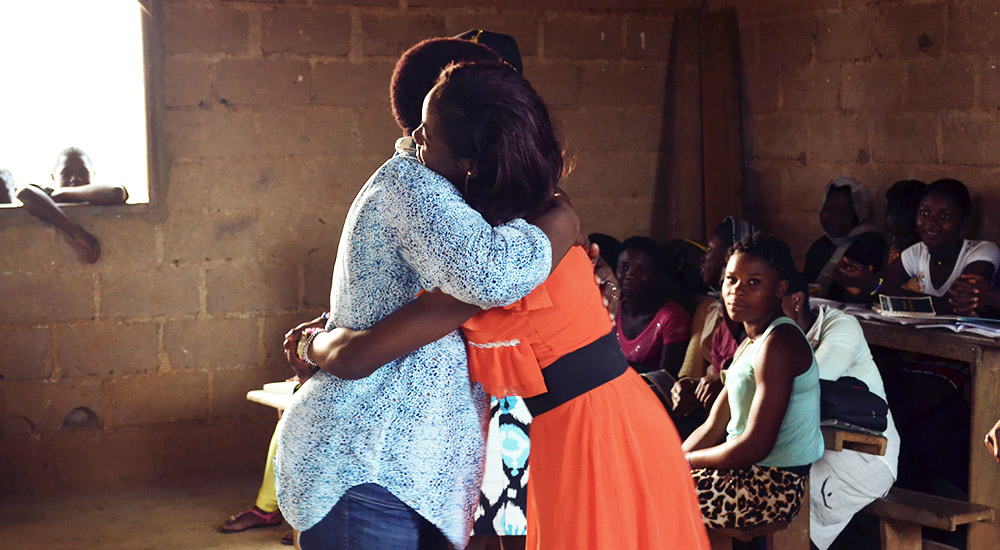 Safety
Today most high schools in Cameroon are located in towns. They lack boarding facilities, thus requiring girls from rural areas to move – often on their own – to urban centers, where too often they become targets of preventable abuses.
By building a community-based boarding high school with toilets in the western Cameroonian village of Bankondji, Aumazo will help local girls to stay in school by providing a safe, nurturing learning environment that is integral to the local community and its economic and social development.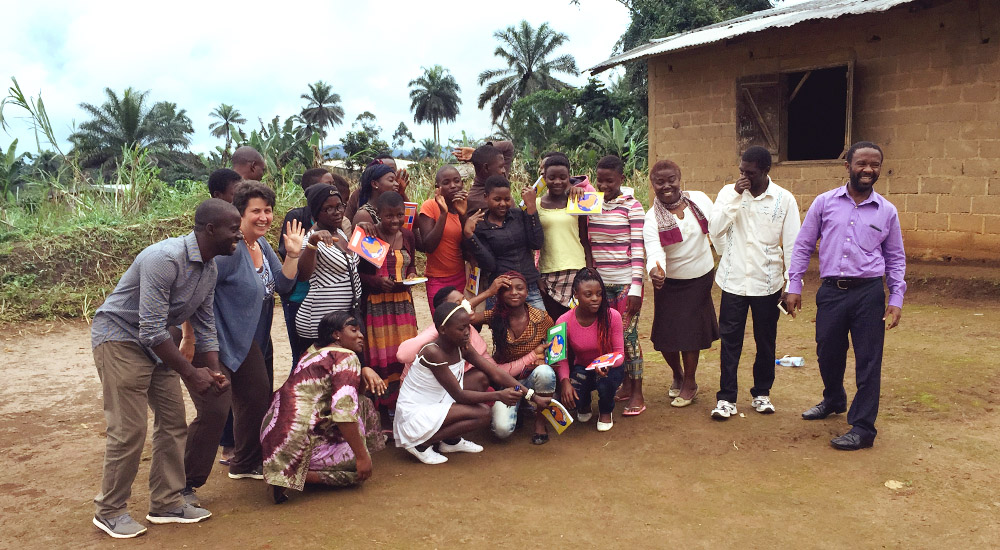 Academic Preparedness
Many seventh and eighth graders in rural communities cannot understand grade-level work in reading, math, and other subjects, jeopardizing their chances of getting into high school. The many reasons for this are complex: very large class size, (60 to 80 students or more), high rates of absenteeism of both teachers and students, poorly qualified and unmotivated teachers, shortage (or total lack) of teaching materials relevant to the circumstances of students in rural areas, lack of sanitary facilities and unsafe infrastructure. Without intensive academic support, these students cannot pass Cameroon's complex high school entrance exams.
Aumazo is working with seventh and eighth grade girls in Bankondji to vastly improve the entrance exam pass rate for girls in the village, which stood at just 23 percent in 2015. Thanks to donor support, we launched our Ça Fait Du Bien/It Makes Good tutoring program in August 2016, which is designed to support each student's unique needs and learning style. By 2019, the pass rate improved to 86 percent among the tutoring program students. Sixty girls have participated in the after-school program, improving their understanding of core subjects and gaining confidence.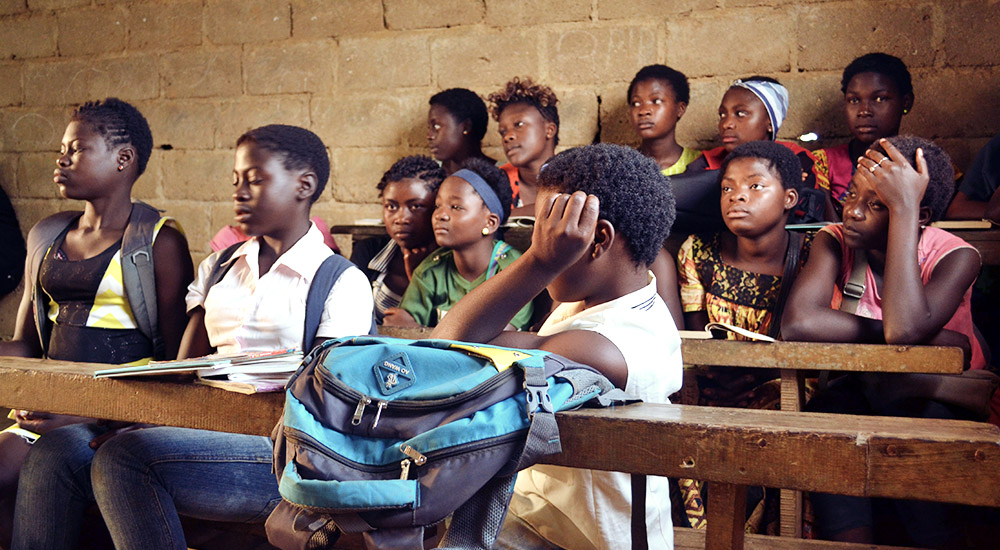 Cost
Schooling is compulsory in Cameroon, but education is not free. With half of Cameroonians living on less than two dollars a day, according to the World Bank, few families can afford school tuitions and fees. The financial picture is more bleak in rural areas, where most people lack income sources altogether. Families with limited resources tend to use what money they have toward the education of sons before daughters.
Recognizing that a high school education should be a right for young women, not a luxury, Aumazo's objective is to provide tuition free educational support and schooling to girls of rural Cameroon. Our flagship boarding school, under construction in the village of Bankondji, will provide tuition-free high school education for up to 150 girls each year. While we raise funds to complete construction of the school, Aumazo is hard at work tutoring girls of the village, helping to bring their skills up to grade level and prepare them for mandatory high school entrance exams.
In order to help defray the operating costs of the CoReTecK Kamarie school, ZOMABuild was established as a social enterprise in Cameroon in 2013. We anticipate that by the end of the 2021/22 academic year, ZOMABuild will have sufficient business to meet the operating expenses of the tutoring and scholarship program as well as a part of CoReTecK Kamarie's operating expenses.