Somebody likes what you did!
"At first, this road was galloping. I am very happy to see how that road is being graded," said Oliver in Bankondji, Cameroon.
Watch "The Road to Change"
The New Road in Bankondji
Last year, your donations helped build the kilometer-long track from Bankondji village to the school site to provide year-round access to students and the five-ton trucks that haul building materials to the construction site. We didn't expect such a positive impact on Bankondji's people from our small road improvement activity.
One village elder, Germain, is so happy that we levelled the steep slope that was preventing him to get to his small house next to the Aumazo School. He posed for the video standing on the newly constructed road in order to share his gratitude to you and all those who made it happen.
The livelihood of this elder and many others in the village depends on their ability to move around in all weather. Building ditches to drain rainwater off the road will give them and our school population a lifetime access road.
I did not know that this would ever happen. A trail that links the school site to the village has become a road.
We did it! You really did it!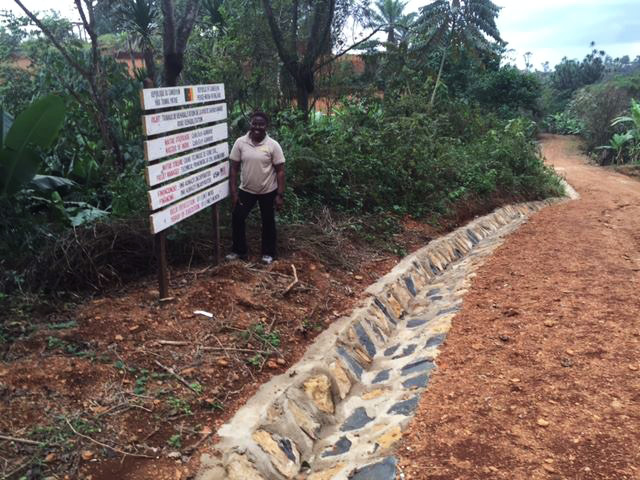 2016 Aumazo Tutoring Program
This is a new beginning. Your continued support will allow us to reach our goal of providing a Tutoring Program to our prospective students during the summer of 2016. Many 8th graders in rural communities cannot understand grade-level texts in reading comprehension, math and other subjects. Therefore, they cannot pass the complex high school entrance exam required to enrol in Cameroonian high schools. We plan to tutor them up to grade-level in the existing building on the school site and thus help them succeed in the exam.
To achieve this new goal, this year, Aumazo needs to raise an additional $35,000 to bring safe drinking water to the school and build a few toilets that will provide girls access to clean private bathrooms.

Our future students, simply happy!
GlobalGiving's Pro-Rated Bonus Day is today!
Help us bring safe drinking water and build few toilets to welcome the prospective students who will take part in our Tutoring Program this summer 2016. Today (March 16th) we will participate in GlobalGiving's Pro-Rated Bonus Day. Give to our project any time today between 9am and 11:59 pm EDT via our GlobalGiving Page and GlobalGiving will add on extra funds to make your donation go even further. Your donation and the extra funds will go to fund the Aumazo Tutoring Program this Summer 2016.
Together we built the road and Aumazo's future looks rosy because of its partnership with you. We thank you for all that you do to lead us to success.