What's Your Experience With Aumazo?
Dear Friend,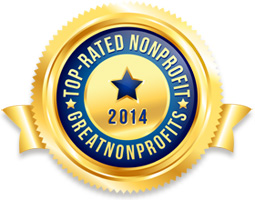 If you love our work then tell the world! You have an opportunity to help us make even more of a difference in our community. GreatNonprofits – a review site like TripAdvisor – is honoring highly reviewed nonprofits with their 2014 Top-Rated List. Won't you help us raise visibility for our work by posting a review of your experience with us? All reviews will be visible to potential donors and volunteers. It's easy and only takes 3 minutes! Visit our Aumazo Review Page to get started!
What It Takes To Win
To qualify for the 2014 Top-Rated Awards, we need to have at least 10 new positive (4 or 5 star) reviews from different users between January 1st, 2014 and October 31, 2014. We need to maintain an overall average of 4 or 5 stars during this campaign period.
What do Winners Get
Top Rated Badge, Certificate, Press Kit and Marketing Materials to Included in Donor Letters, your Website
You will be listed on our 2014 Top Rated Leaderboard and 2014 #GivingTuesday Guide and will receive promotion throughout the year and during the fundraising season in conjunction with #GivingTuesday
Winners will be promoted via social media, public relations and on our thought leader publications via the Huffington Post and other mediums
Winners may be selected to attend our Annual Technology for Social Good Conference at LinkedIn
Winners will also receive mention from our sponsors and partners, and special designation on the GreatNonprofits site