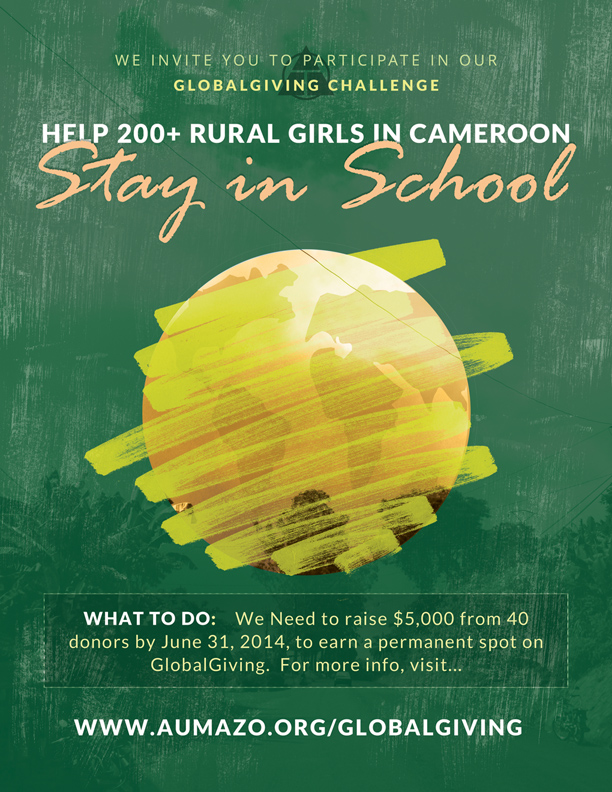 GlobalGiving approved Aumazo's campaign to raise funds worldwide! However, to win great advantages, our project "Help 200+ Rural Girls in Cameroon Stay in School" has to raise $5,000 from 40 donors by June 30, 11:59 PM EDT to earn a permanent spot on the GlobalGiving site.
Let's Meet The Challenge
The challenge on GlobalGiving launched on June 1st, 2014. Our project has to raise $5,000 from 40 donors by June 30, 11:59 PM EDT to earn a permanent spot on GlobalGiving.
There will be three prizes available for the most funds raised through the entire Challenge.
$3,000 will be awarded to 1st Place
$2,000 for 2nd Place
$1,000 for 3rd Place
$2,000 for the most unique donors
GlobalGiving will be giving away $20,000 in Bonuses during June:
Bonus Day #1 will be on June 11th starting at 9am EDT
Bonus Day #2 will be on June 18th starting at 9am EDT
June 11: Bonus Day 1
You have the opportunity to get more out of your donation to our GlobalGiving campaign. Starting at 9am ET on Wednesday, June 11, GlobalGiving will be matching online donations of $25 to $1,000 at 15% until the $5,000 in funds run out.
Payment Methods
First, click on this link to Donate To Our Campaign, and there you will find many ways to give on Bonus Day, and during the rest of the Challenge:
PayPal: This is the easiest method of donation and the fastest. If you experience any trouble with the other donations methods, this is the best solution.
Credit or Debit Card: Also very easy to use on GlobalGiving. Note that the address you enter into the system must match the address your bank has on file exactly. This is the most common issue when trying to give with a credit or debit card.
Check (not be matched on Bonus Day): You can give by check and include our project ID number 17229 in the memo line. Mail the check to GlobalGiving new office in Washington DC (1110 Vermont Ave NW, Suite 550, Washington DC, 20005). Checks in a foreign currency must be at least $100 or more. GlobalGiving's office must receive checks by June 26th.
Direct Bank Transfer (not be matched on Bonus Day): You can send money directly to GlobalGiving bank account. Please send confirmation of the transfer to their team at challengehelp@globalgiving.org Please note, GlobalGiving cannot cover the wire transfer fees for international wire transfers.
Our Progress
Any and all donations are welcome and appreciated. No time to waste, let's make this happen! Remember, a little now can go a long way.