Aumazo Named Global Giving's Project of the Month
Since we launched the tutoring program "Ça Fait Du Bien/It Makes Good," on August 15th 2016, life has changed for many people, including myself. Just this morning — September 15, 2016 — I learned from the Program Coordinator how disappointed the girls in the program were when the teachers ended the class after giving them an additional thirty minutes beyond the scheduled time. The program runs for two hours every other day, but the girls are getting so much from the program that they are requesting additional time. Moreover, many parents are planning to have their daughters return to Bankondji village so that they can take advantage of the tutoring program. They had first sent their girls to the city in the hope that they would have a better study and learning environment. All this news is so heartwarming and music to my ears that I want to share it with you.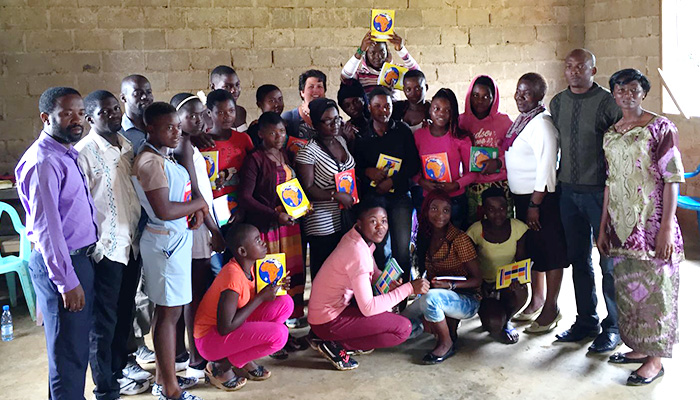 Global Giving's Project of the Month
You have played a crucial part in this exceptional stage of Aumazo's life cycle. You mobilized all your efforts to keep Aumazo growing. We anticipate that many more unprecedented moments lie ahead and that any one of these will not cast a shadow over any other. For example, on June 21st, 2016, I received an email from GlobalGiving which said in part: "I'm Janica from GlobalGiving and I have good news: we've selected Aumazo Inc.'s Help 200+ rural girls in Cameroon stay in school project as GlobalGiving's Project of the Month for July 2016! Congratulations!"
The email went on as followed: "The Project of the Month Club is a program we've set up where we pool several individual, monthly recurring donations together to make one donation to a different earth-changing idea each month. Your work has been selected as this month's high-impact project that will benefit from the Club's donations! […] While the number of donors and donation amounts vary each month, we estimate that this month the Club will raise approximately $8,700 for your project! The funds won't show up on your donation manager, but they should appear in the disbursement you receive in August […]"
Seeing is Believing
I couldn't believe my eyes and my first reaction was to inform Aumazo Board Chair, Abbe. Although she was as excited as I was, she cautioned me with this reply: "That is great news!  But we should not count our chickens before they hatch…" Her response was right on point because for the last 11 years, together, we went through all the turmoil of many disappointing and empty promises. Now, we go by: "seeing is believing." This one nonetheless, came from a reliable source and their words "different earth-changing idea" struck the core to me.
You have done the right thing all along. You understood long ago that Aumazo was an "earth-changing idea" and you did not hesitate to throw your support behind it. Thus, we thank you for your loyalty to our mission and for holding Aumazo in such great esteem.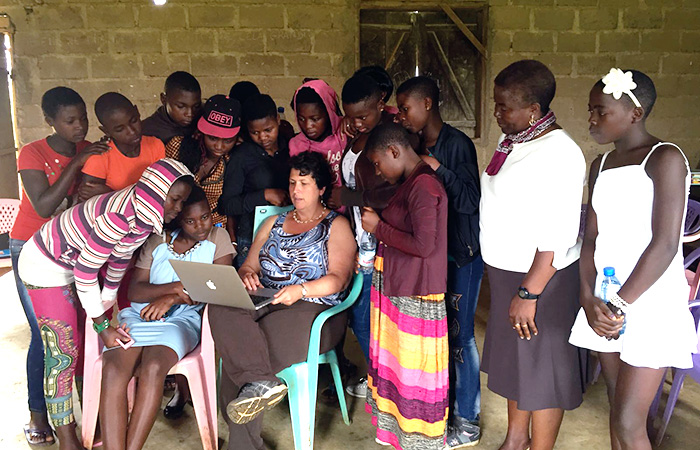 Timely Financial Support
As expected, on August 25th, 2016, we got the following message from GlobalGiving, "Hi AUMAZO, INC., Congratulations on your organization's incredible work! GlobalGiving is pleased to send you a Wire for $8,478.90 representing donations to AUMAZO, INC.'s projects made through 7/31/2016."
I was in Cameroon when I received this great news. The financial support is coming handy and the timing is just perfect. The $8,478.90 will allow Aumazo to support part of the costs of the tutoring program "Ça Fait Du Bien/It Makes Good" during the entire 2016-2017 school year, enabling 7th and 8th grade girls in Bankondji village to develop the ability to comprehend texts in reading comprehension, math and other subjects and pass the entrance exam required to enroll in Cameroonian high schools.
Time-Release Bonus Day
We need to raise an additional $31,522 to finance the peer to peer tutoring program through the entire school year. This Wednesday, September 21st, 2016, is GlobalGiving's Time-Release Bonus Day. "The Time-Release Bonus Day" will start at 06:00 am EDT on September 21st and end at 23:59:59 pm EDT on September 21st. Online donations are eligible for a match of 30% applied to each donation from $10 USD up to $1,000 USD per donor, while funds last. The $60,000 available in matching funds will be divided into two equal pots. Those pots — of $30,000 each — will be available as matching funds beginning at 06:00:01 am EDT and 12:00:01 pm EDT respectively."
We count on your generosity to make this Time Release Bonus Day a success. Please make your donation as soon as possible right after 6:00 am EDT or 12:00 noon EDT via Our Global Giving Page and GlobalGiving will add on extra funds to make your donation go even further.
Your Gift's Positive Impact
Your gift is already having a positive impact on 33 girls in Bankondji Cameroon through the tutoring program "Ça Fait Du Bien/It Makes Good." They are thus far enjoying the fruit of your kindness. The fact that they are feeling disappointed because the class is ending in two and half hours instead of two hours is very telling.
Last year, the "road" to the new High School site was an investment that we could afford. Working together again, we made the Tutoring Program happen. All we have to do at this point is to sustain the tutoring program throughout the 2016-2017 school year and help Aumazo climb higher up the achiever ladder.
We thank you always for all that you do to lead us to success.